Jatec AS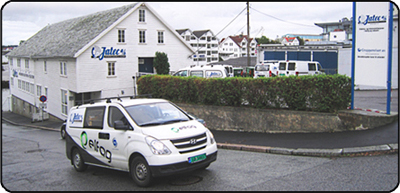 Jatec AS was established in 1945 as Brødr. Jacobsen AS. The electrical contractor part was separated in 1990,
and became the new independent company with the
new name Jatec AS.
Jatec AS has today approx. 30 employees and carry out
a many different types of installations both within
electrical power and low voltage control systems etc.
Adress:
Smedasundet 58
N-5528 HAUGESUND

Postadress:
PB 413
N-5501 HAUGESUND

E-mail: post@jatec.no

Tlf: +47 52 70 30 30

Fax: +47 52 70 30 50

Opening hours :

Monday-friday: 07.30-15.30

Saturday-sunday: Closed


Larger map